Round Telescoping Tubing Locks
Clutch Telescopic Tube Lock (A)
Aluminum A Style Clutch Lock with knurl for easy turning. This internally threaded 'clutch' includes a split plastic sleeve to tighten on the inside tube when the clutch is turned. Clutch provides trouble-free, secure metal construction. Made in house, these are available in all diameters from 3/8" diameter up to 1-1/2" diameter. The Clutch Lock is an economical choice for a telescopic tube lock. Custom version available built for autoclave.
Split Collar Telescopic Tube Lock (B)
B Style Split Collars are very strong and stiff. They're our strongest lock and are suitable for use with our aluminum tubing or with steel tubing. Features a spring-loaded mechanism and an easy-to-turn 2-finger plastic knob. Available in 1/2" through 1 1/2" diameters. Non-Rotational (NR) compatible 1/2"-1 3/8". Available for purchase a la carte or as part of a tubing assembly.
Telescopic Tube Clamp (L) Lever Lock
The L Lever Lock is one of our strongest telescopic tube locks. This is a simple one handed flip lock, able to open and close the lever with one hand. This lock is available for tubing from 1-1/2" down to 5/8".
Cam Telescopic Tube Lock (C)
C Style internal Cam locks are internal and twist to close. This lock is ideal when one handed operation is necessary. Available in 1/2" through 1-1/4" diameters. Not compatible with non-rotational tubing.  Bearing lines are provided between the tube sections.
Shock Cord Tubing (D)
D Style shock cord legs, also known as bungee cords, open easily as they nearly assemble themselves. All sections must be the same diameter. While tubes do not telescope, they do fold compactly. Assembled leg presents itself as a constant diameter.  Available in all diameters.
Non-Locking Telescopic Tube (E)
The E Style telescopic tube keeps the inner tube(s) 'captive' so it can't come out. Though this telescopic tubing style is non-locking, there are no bearing lines between the sections. Non-rotational compatible.
Spring Button Telescopic Tube Lock (F)
F Style spring buttons lock in the tubes at predetermined positions. Non-rotating inside tubes are used to make lining up the spring buttons with the holes automatic. Style F is available from 1/2" to 1-3/8" diameters in 1/8" increments.
Spring Button Clutch Telescopic Tube Lock (FA)
FA Style features the A Clutch lock and the F Spring button lock.  This enables the tubes to stop at predetermined positions, while the A Clutch lock eliminates any "play".   Non-rotating inside tubes are used to make lining up the spring buttons with the holes easy.  Style F is available from 1/2" to 1-3/8" diameters in 1/8" increments.
Snap Lock Telescopic Tube Lock (G)
The G Style Snap Lock is in some ways our easiest lock to use.  Simple snap lock system offers effective strength, a clean look and an economy price point.  For critical applications requiring extremely strong locking torque - the B lock is recommended.
Set Knob Telescopic Tube Lock (H)
The Set Knob (H) is a telescopic tube lock designed to limit marring of the tubes while keeping the inner tube captive. Full metal construction, this is our most expensive lock style and is appropriate for critical applications.
Mini Economy Telescopic Tube Locks
This Mini Plastic Telescopic Tube Lock is simple to operate.  Only two sizes are available.  One for a 5/16" outer tube with a 3/16" inner rod.  Another for a 1/2" outer tube with a 3/8" inner tube.  Stocked each in silver and black, the two size locks do not match style-wise.
Swaging for Aluminum Tubing
An economical way to form leg ends, so one leg nests into another.  A spring button can be an option.  Swaging features close tolerances and provides great strength.  We are tooled for 3/4" 1" and 1-1/4" diameters.

Specializing in Custom Solutions
Telescoping Tubes
Extension Poles
Folding Stands
Sign Frames
Mounts, Ball Swivels
Custom C Clamps
Instrument Attachments
Tubing and Lock Types Video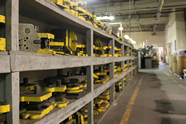 Tool and Die Rack
Automatic Screw Machining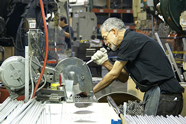 Cross Cut Saw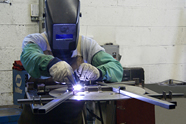 Mig Welding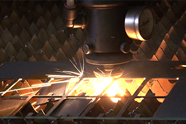 Laser Cutting